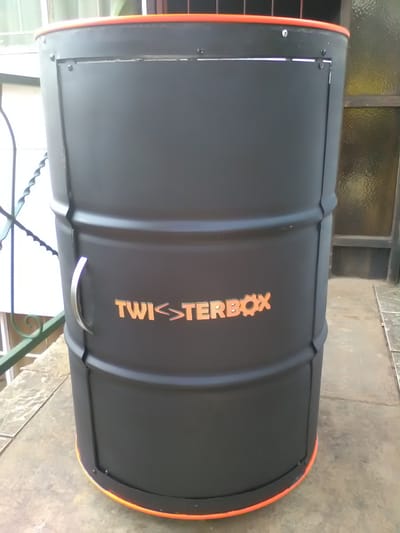 Twisterbox™ barrel/oil drum toolbox. Superior innovated design.
We created this inspiring new toolbox instead of the old fashioned square toolboxes.

Patent no: 2016/07358
Int Trade Mark no: 2016/31406
Registered Design : 2017/00710

This toolbox has many features which other toolboxes don't have.

Easy mavouvrable:
It has 4 swivel trolley wheels which let's it move in any direction you want and it's capable of turning in a 360° radius.

Easy to manufacture:
You don't need to be a rocket scientist to build this. If you have the knowledge and experience of mechanic and steel work you can create the Super Box of toolboxes. All materials are easily to come by.

Solid, industrial built toolbox:
It's built with only the best material available. It's built for toughness and ruggedness.

Time saving:
You don't have to spend hours looking for tools. Everything is right at your side. Square toolboxes are always a problem to open. Tools wedge or get stuck inside the drawer and it takes how long to get the drawer open to reach your tools? If you work 20m away on a car or truck then you can push Twisterbox™ to the spot where you're working instead of running up and down to your square toolbox for tools which takes a lot of time if you do the correct math for a complete working day. Sometimes you don't even find your tools in the square toolbox and it extends your search for tools = wasted time.

Tools are easy accessible:
Open the sliding door and wallah: You have a 360° rotating case inside which turns in both directions which makes reaching your tools faster and easier than in square toolboxes. Tools are always in a mess in square toolboxes. Tools are stored where they're not supposed to be. With Twisterbox™ every tool has its place and one tool won't fit in another tools' place.

It can create thousands of jobs:
This is a huge project when going in mass production. Extra jobs will certainly be created because this is an assembly that needs a couple guys on one product. With a couple factories or one huge factory a thousand jobs will certainly be available.

Uplifting any economy:
With job creation and extra money flowing between companies the economy will certainly benefit from this product. Every company involved with this product will achieve more on sales and profits than with old stock struggling to sell.

Potential as an export product:
This is a one of its kind toolbox. A first for the 21st century. It's something new. Every mechanic worldwide wants this!!!! Extra income for every company or nation exporting this product because worldwide interest for this toolbox already exists.